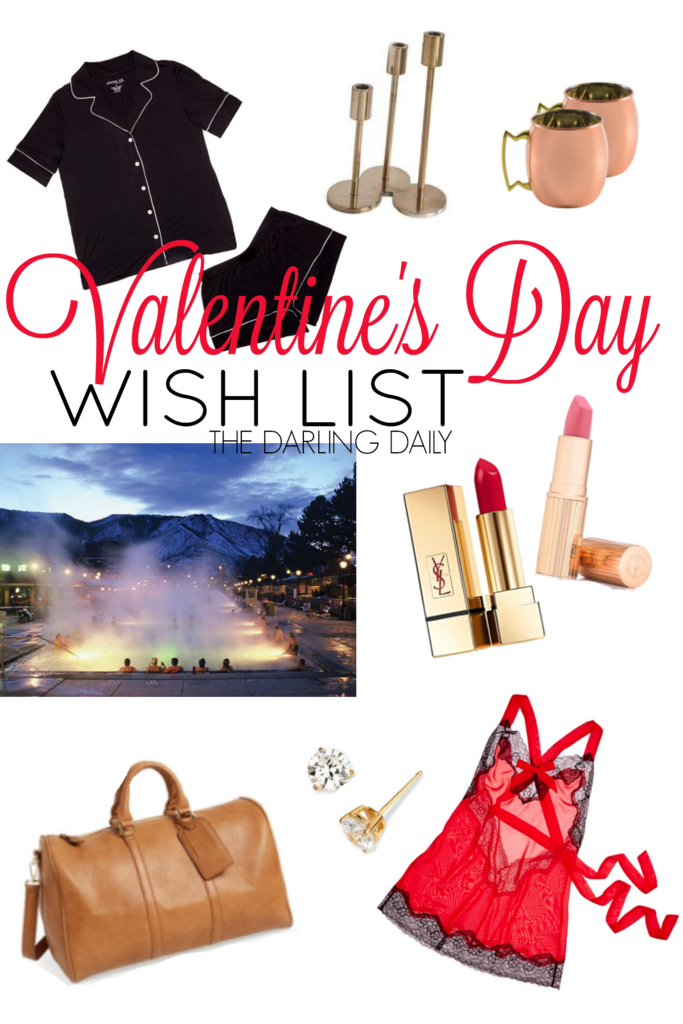 Believe it or not, Valentine's Day has always been one of my favorite holidays. I'm not really sure why, maybe because it gives me an excuse to rock two of my favorite colors (pink and red, le duh). Whether I'm single or taken, I never miss a chance to use the day to remind those I love how much I appreciate them (and some self-appreciation when I'm single for the holiday).
Who doesn't love a comfy pair of
cute pajamas
? I love the white pipping on these and I can just envision myself in them with a pair of over-the-knee socks and a cuddly blanket watching Gilmore Girls on Netfix (anyone else super excited for the return?!).
For Christmas, I received 12 beautiful cream champagne-scented candle sticks but I don't have any candle stick holders. This
trio of gold toned holders
would be perfect.
I live in the mountains and am definitely enjoying the apres Moscow Mules a little more than I am learning to snowboard. Making my own from the comforts of my apartment in these
copper mugs
would save me a pretty penny from the local bars.
I'm all about experiences and the
Glenwood Hot Springs
is one of my favorite places to escape to while I'm living in the Vail Valley. It's so peaceful and rejuvenating. With a backdrop of the mountains, I'd say it's a pretty romantic getaway, even if for a few hours.
I'm definitely craving for some new lipstick shades and the YSL lipstick in Rouge Pur Couture #55 and Charlotte Tilbury in Between the Sheets are perfect shades for the upcoming holiday of love.
Hey, if someone were to hand me a prepacked
weekender tote
as adorable as this one with a plane ticket to Cabo inside, I wouldn't say no. While the mountains have been great, I need a little more humidity and hot weather in my life.
Last I heard, diamonds are a girls best friend? After receiving a
pair of pretty studs
, I might consider you my best friend, too...
Finally, the last item on the list, some pretty
red lingerie with black lace trim
. Let's keep the holiday sexy, classy, and romantic for those who are coupled up.
What's on your Valentine's Day Wish List?
Best,
Ashliegh
Like this post? You might also like...
The Most Epic Bad Date Ever
Vacay Everyday: Enjoy the Little Things