Being a college student can be expensive, even outside of paying tuition! I was financially independent from my parents throughout my entire collegiate experience. I had to pay for tuition, sorority dues, food, rent, trips, and other various things on my own. I was extremely involved on my campus so I had a lot of expenses. This experience required me to get creative when it came to making money. If you're a broke college student, I hope that you'll find this post helpful as I share many of the ways I made money while in college (some are extreme and bizarre)!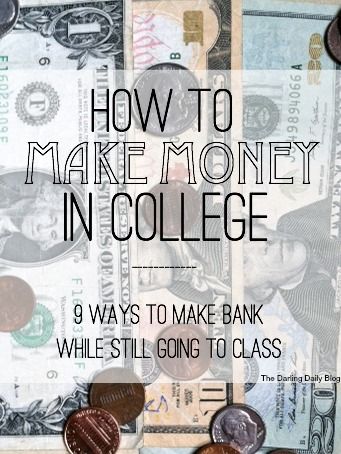 Freelance your skills!
Are you a talented writer? Copywriter? Editor? How about graphic design? Finances and budgeting? Definitely check out
Elance
! This website will help you find companies looking for freelancers to assist with various projects. You're in college and building these skills so why not make some extra cash and build your resume?!
Be a Brand Ambassador!
Many companies offer awesome perks for students who can represent their brand on campus. Many of these programs come with awesome incentives like free swag, exclusive discounts, and build your marketing and communication skills. I've worked with a few different companies that have me market an ambassador specific coupon code to my friends and once they use the coupon code, I get paid a certain percentage or fixed price of the sale. I've also worked with Bell Tower Books where I bought back books from students during finals week (similar to your college's bookstore but Bell Tower frequently gave a better deal!). Another option is to Facebook search for Brand Ambassador groups in your area. I was able to work with Sports Authority for a weekend asking customers to take a quick survey. This type of work makes great money and you don't have to commit more than a few days.
Get an On Campus Job
- Your university should offer some sort of job search program for on campus jobs. I worked in our Telefundraising office for a few years and also worked at the dining hall. Many of my friends work as tour guides, tutors, and for the I.T. department!
Love kids? Babysit or Nanny!
I was able to find a babysitting job that was flexible around my class hours or even just on weekends! I've found success with sites like sittercity.com
Get an Off Campus Job!
The year before I went to college (I took a gap year), I did some waitressing which helped me save up a lot of cash. In college, I was able to find a job at a local telemarketing agency. Since I had previously worked with our telefundraising office, I already had some skills in cold calling. Also, telemarketing is great for college kids because many pay around $10/hour, much better than the minimum wage jobs on campus! These jobs also look great on a resume because many entry level jobs require you to be comfortable with cold calling.
Sell your stuff!
My sophomore year I was almost kicked out of my sorority for not being able to afford the dues. So I boxed up almost all of my clothes and accessories and sold them to the nearest Plato's Closet and consignment shops. Nowadays,
ThreadUP
is also an option if you have a lot of name brand clothing! I also sold my iPod and other electronics on Ebay. You can also consider selling your plasma; that pays $50 every time you go.
Start an Etsy Shop!
Senior year I got back into pageants so I started an Etsy shop selling paintings to raise money for the Children's Miracle Network! Get crafty and just go for it. Sell hair bows, custom tee shirts, paintings, sorority crafts, whatever!
Be a guinea pig!
I'm a huge fan of taking online surveys with
Inbox Dollars
and other survey companies! Many of the programs pay in cash or in free magazine subscriptions, free miles, gift cards, etc! I also participated in a few research studies which paid me cash as soon as I completed the study! You can often find these studies on your university. Definitely check with the psychology department. I also did a few with a dietetics study on fish. I basically got paid to eat tilapia.
Start a blog
! Thanks to my beautiful darling readers, I was able to use the money I made from my blog during my last semester of college to pay for my rent! Thanks to you ladies, I wasn't left homeless on the streets. I wish I had started my blog sooner. There is a lot of opportunity and you learn so many skills such as HTML, marketing, social media, content writing, etc. You can find a lot of helpful tips and tricks to help your start your blog on Pinterest.
Feel free to check out my Pinterest board dedicated to blogging resources
!
How do you make money in college? If you're going to college this fall, are you getting a job?
With Love,
Ashliegh
P.S. You might also want to check out my post on
how to save money while shopping online
!
Find more college advice here!